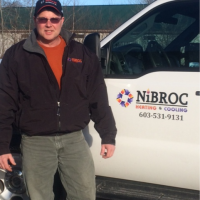 Thank you for considering NiBROC Oil, LLC as your fuel provider.
The name NiBROC is an old family conversation piece really… It is Corbin, my last name spelled backwards.
My name is Russ Corbin, I am the owner and sole member of NiBROC Oil, LCC and I welcome you.
My true background is service. I have been a technician for the oil, gas and air conditioning industry in the New Hampshire Seacoast area for over 30 years.
I am the son of Russell Corbin, Sr. A past local business owner and member of the United States Navy SeaBees during World War II. He instilled in me, the true meaning of honesty, integrity, family and in later conversations, customer service and how important it is.
Now my youngest son, Michael, has become an accredited, seasoned technician for NiBROC as well.
We have a great staff here at NiBROC. We take pride in everything we do.
You will hear the difference on the phone. You will see the difference when we are on site. You will feel the difference in your wallet.
Most importantly, you will appreciate the way we do business!
Sincerely,
Russ Corbin
Service Area
Atkinson, Barrington, Brentwood, Candia, Chester, Danville, Deerfield, Dover, Durham, East Kingston, East Hampstead, Epping, Exeter, Fremont, Greenland, Hampstead, Hampton, Hampton Falls, Kensington, Lee, Madbury, Newcastle, Newfields, Newington, Newmarket, Newton, North Hampton, Northwood, Nottingham, Plaistow, Portsmouth, Raymond, Rye, Sandown, Seabrook, Somersworth, South Hampton and Stratham